Rent or Buy Now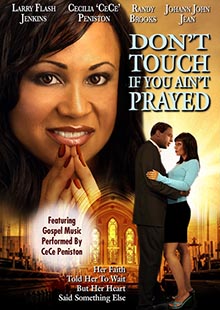 Don't Touch If You Ain't Prayed
Own It December 06, 2005
Genre: Gospel
Runtime: 105 Minutes
UPC: MAV-5159, 824355515923
Storyline
After saving herself for marriage, a forty year old Christian woman finally meets her soul mate. But her hopes sour once she finds out this candidate carries extra baggage; a drunk wife and shady dealings with criminal elements. With no other takers on the horizon, she begins to doubt her faith. But good things come to those who wait and a new reformed man returns to her life. Will wedding bells finally ring for our protagonist?
Directed By
Larry Flash Jenkins
Cast
Larry Flash Jenkins, Johann John Jean. Randy Brooks, and Cecilia Peniston
About the Crew
a must see!', as stated by 98% of the audience at a recent screening in Chicago.
Peniston's 'Finally' was ranked #29 on VH1's 100 Greatest Dance Songs. Mixes of her songs remain a favorite in dance clubs around the world.
Randy Brooks is a very prolific african american actor appearing in over 40 films and television shows including Tarantino's 'Reservoir Dogs' and guest appearances in 'The West Wing.