Rent or Buy Now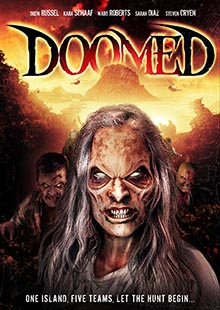 Doomed
Own It April 03, 2007
Genre: Horror
Runtime: 76 Minutes
UPC: MAV-5227, 8-24355-52272-3
Storyline
In the near future, society's thirst for reality TV has pushed the envelope to the edge, creating a sadistic kind of entertainment…SURVIVAL ISLAND 2020. The concept is simple...Stay Alive! Ten contestants are divided into five teams on a remote desert island. They must reach the other side of the island in three days, where for the winner, a boat and the $50 million cash prize awaits. While scavenging for food, supplies, and weapons, the players realize that they are not alone on the island. They are being hunted by an army unit of cold-blooded zombies. The demented super soldiers were left behind on the island, when it once housed a military base conducting secret, but failed, human experiments. Each team must find their strengths, gather their wits and try to outsmart the savage death squad that stalks them. If not, they are all DOOMED!
Cast
Drew Russel, Kara Schaaf, Ward Roberts, Sarah Diaz and Steven Cryen
About the Crew
Somewhere between "LOST" and "AMAZING RACE" this thriller will capture your attention and drop you off in the Middle of a game for the fight of your life!
Reality TV with a New TWIST! You're SOUL is the PRIZE!
Gallery
Gallery Images are Coming Soon.