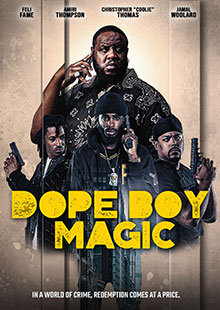 Dope Boy Magic
Own It October 10, 2023
Genre: Crime, Thriller
Runtime: 100 Minutes
UPC: MAV-5993, 824355599329
Storyline
In the rough streets of Lumberton, NC, Mario wants to take the fastest path possible to a better life. Growing up with a father who was a pimp and a mother who was a prostitute, he only saw the worst in humanity on a nightly basis. Failing out of school and penniless, the only options were selling drugs, and theft. He started out breaking and entering, robbing trailer homes of known dope boys, who take notice and action.
Produced By
Marquand Ragland, Matthew Smith, Eric Huyhn
Directed By
Marquand Ragland
Cast
Feli Fame, Amiri Thompson, Christopher "Coolie" Thomas, Jamal Woolard
About the Crew
Marquand Ragland is a director and producer known for Take me To Amazing (2022), Crossover (2022), The Christmas Spirit (2022), Monogamish (2023), and Rainey Storms (2023).
Amiri Thompson is an actor, writer, and director known for Crossover (2020), The Dating Game (2021), and Monogamish (2023).
Jamal Woolard is an actor known for Notorious (2009), Barbershop: The Next Cut (2016), All Eyez on Me (2017), Christmas on my Block (2021), and The Forbidden Daughter (2023).