Rent or Buy Now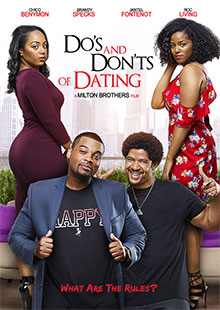 Do's and Don'ts of Dating
Own It July 21, 2020
Genre: Comedy
Runtime: 82 Minutes
UPC: MAV-5637, 824355563726
Storyline
Ladies' man Scott Hall thinks he has the dating game figured out. He has dating rules that he follows until he meets his match. Will she throw him off his game?
Produced By
Jonathan Milton, Tonyai Palmer, Johnnard Harper, Jalene Mack, Justin Milton
Directed By
Jonathan Milton
Cast
Chico Benymon, Roc Living, Brandy Specks, Jantel Fontenot
About the Crew
Jonathan Milton is a director and producer known for The Foreign Exchange Student (2017), The Perfect Wife (2018), Captured (2019), and Behind Closed Doors (2020).
Chico Benymon is an actor and assistant director, known for Ali (2001), Half & Half (2002-2006), House Arrest (2012), The Haunted Hathaways (2013-2015), and Soul Ties (2015).
Roc Living is an actor known for Married Men and Single Women (2011), The Foreign Exchange Student (2017), and 5th Ward (2018-2020).
Brandy Specks is an actress known for The Pastor's Daughters (2016), Mrs. Claus (2018), Pipe Dreams (2018), and How to Get Away with Cheating.
Gallery