Rent or Buy Now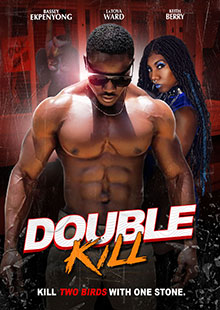 Double Kill
Own It August 15, 2023
Genre: Crime, Thriller
Runtime: 125 Minutes
UPC: MAV-5972, 824355597226
Storyline
A serial killer known as DGK (The Doppelgänger Killer) makes a fatal mistake when he kidnaps the wife of one of the most decorated FBI Agents in U.S. history. DGK kidnaps a victim, and holds them hostage until he can find their doppelgänger. Once found, he kills both of his captives, paints their bodies, and sits them in a place where they can easily be found together, only to have their crime photos taken and showcased to the world as a work of art.
Produced By
Joseph A. Elmore Jr., Troy Wooten, LaToya Ward, Linda A. Wu, Candy, ILL Trill Neil, Sherreco Allen, Solomon Jennings
Directed By
Joseph A. Elmore Jr.
Cast
Bassey Ekpenyong, LaToya Ward, Keith Berry
About the Crew
Joseph A. Elmore Jr. is a writer, director, and producer known for How to Get Away with Cheating (2018), Complex (2021), Gutter (2022), and Platinum (2022).
Bassey Ekpenyong is an actor and fitness influencer with a quarter million social media followers. He is best known for La Femme Anjola and Big Brother Nigeria.
LaToya Ward is an actress known for If Loving You Is Wrong (2014), She Sexy (2021), and Gutter (2022).