Rent or Buy Now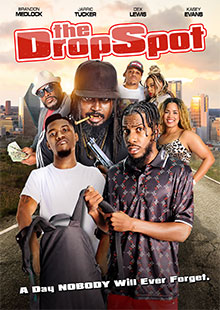 The Drop Spot
Own It December 06, 2022
Genre: Crime, Drama
Runtime: 83 Minutes
UPC: MAV-5855, 824355585520
Storyline
Regular guy, Mike, mistakenly receives a package from a crew member of notorious drug dealer, Big Black, while at work. With his best friend, JD, by his side, the the two must figure what to do: return the package or sell it themselves. With a child to look after and provide for, what should be a simple decision, turns out to be a lot more complicated.
Produced By
Kaegan Alazander Blaq, DeMarcus Bailey
Directed By
Kaegan Alazander Blaq
Cast
Brandon Medlock, Jarric Tucker, Dex Lewis, Kasey Evans
About the Crew
DeMarcus Bailey is a director, writer, and producer known for Love & Drugs (2018), Love & Drugs 2 (2020), Heavy (2021), and Christmas on my Block (2021).
Kaean Alazander Blaq is a producer, writer, and director known for Meet Da Fam (2018), Full Circle (2019), and Datz Funny (2021).
Adrian Black is an actor known for Heavy (2021), The Drop Spot (2022), and Poison Candy (2022).
Brandon Medlock is an actor known for Poison Candy, Love & Drugs 3 the Ultimate Sacrifice (2022).