Rent or Buy Now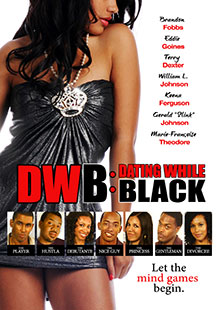 DWB: Dating While Black
Own It October 02, 2018
Genre: Romantic, Comedy
Runtime: 100 Minutes
UPC: MAV-5564, 824355556421
Storyline
DWB: Dating While Black is a very honest and comedic look at the dating process of through the eyes of several individuals. Two former co-workers, Eric and Alex, have been recently laid off of their jobs and they run into each other on a job interview. While searching for new jobs, they forge a personal relationship that involves Alex, a womanizing ladies' man, helping the naive and recently dumped Eric understand women better. Along the path are various dating scenarios from different characters that come in and out of the lives of both Alex and Eric who all demonstrate the struggles, strains, and triumphs of Dating While Black.
Cast
Brandon Fobbs, Eddie Goines, Terry Dexter, William L. Johnson, Slink Johnson
About the Crew
Van Elder is a producer and director, known for Issues (2005), Divine Intervention (2007), and Eddie Goines and Friends presents: The Time is Now (2012).
Brandon Fobbs is an actor and producer, known for The Realest Audition Ever (2012), More Than Meets the Eye (2010) This Christmas (2007), and My Sister's Wedding (2013).
Keena Ferguson has performed in a vast array of TV guest roles on many hit TV shows including Two in a Half Men, SWAT, and in last year's breakout hit for FX, Atlanta. Keena's television work experience also includes co-hosting The Way We Do It on BET with comedian Ricky Smiley.
Terry Dexter is known for her work on Love in the Nick of Tyme (2009), Silent Cry Aloud (2016) and The Mr. Peabody & Sherman Show (2015).
Gallery