Rent or Buy Now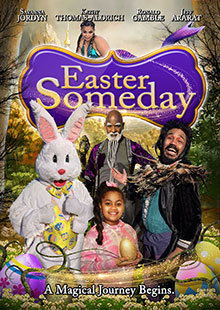 Easter Someday
Own It March 02, 2021
Genre: Holiday, Fantasy
Runtime: 80 Minutes
UPC: 824355573626, MAV-5736
Storyline
Ava, a young girl, is tired of her parents demanding excellence from her, so she wishes to be someplace else and finds herself in an alternate universe called "Someday". In order to get home, she must follow the clues provided by a magical book and overcome challenges from a giant rabbit with magical powers and powerful friends determined to keep her locked in Someday forever.
Produced By
Bryan G. Thompson
Directed By
Bryan G. Thompson/Robert Izquierdo
Cast
Savanna Jordyn, Kathy Thomas-Aldrich, Jerry Walker, Ronald Gamble
About the Crew
Bryan G. Thompson is as award-winning director and producer known known for El Sueno (2016), Rogue Cell (2019), Thanksgiving with the Carter's (2019), and Valentine's Date (2021). Thompson is also the founder and CEO of the Miami Web Series Festival, also known as Miami Web Fest.
Kathy Thomas-Aldrich is an actress, known for Save Me (2014), El Sueño (2016), and Rogue Cell: Shadow Warrior (2021).
Ronald Gamble is an actor and writer, known for The One (2001), The Terminal (2004), and Rogue Cell (2019).