Rent or Buy Now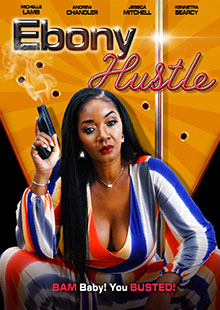 Ebony Hustle
Own It December 14, 2021
Genre: Crime, Thriller
Runtime: 95 Minutes
UPC: MAV-5755, 824355575521
Storyline
BAM baby! You busted! Ex-stripper turned private investigator, Ebony, takes on her most dangerous case yet.
Produced By
John Wayne S. III & Kathy Sapp
Directed By
Jamezz Hampton
Cast
Michelle L. Lamb, Andrew Chandler, Jessica Mitchell, Kennetra Searcy
About the Crew
John Wayne S III is a director/producer. For over two decades, he has worked on music videos, TV commercials and media projects through his company Londyn Town Pictures. His reality style of storytelling and creativity has been his brand as a director. He is also known for Red All Over (2019), and Ebony Hustle (2021).
Michelle L. Lamb is an actress known for I Wish I Never Met You (2020), Sistas (2021), and Ebony Hustle (2021).
Andrew Chandler is an actor known for Frequent Visitors (2020), Some2Luv: The Movie (2020), and Ebony Hustle (2021).