Rent or Buy Now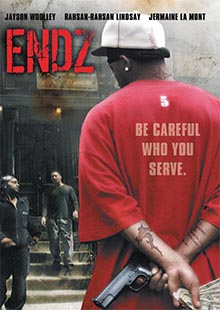 Endz
Own It February 07, 2006
Genre: Action
Runtime: 82 Minutes
UPC: DVD: MAV-5172, DVD: 824355517224
Storyline
Jermaine is your typical guy, struggling to make ends meet while trying to satisfy his demanding girlfriend. Jermaine wants to make her happy, but his efforts may not be enough. His friend Anton is also struggling financially while trying to reconcile with the mother of his child. While hanging out, the two come up with a scheme to make some quick cash. Using the very last of their money they decide to bet that their rap group can defeat another rap crew in a music match that ultimately fails. With the last of Jermaine's money lost, their lives takes a turn for the worst and desperation sets in, leading the two friends and all those involved down a dark and dangerous road to get those ENDZ!
| Directed By | Cast |
| --- | --- |
| Curtis J. Schultz | Jayson Woolley, Rahsan-Rahsan Lindsay, Jermaine 'J-Skru' La Mont, Wendy Elizabeth Abraham, Lori Holden. |
About the Crew
Urban Action depicting true life drama.
Gallery
Gallery Images are Coming Soon.