Rent or Buy Now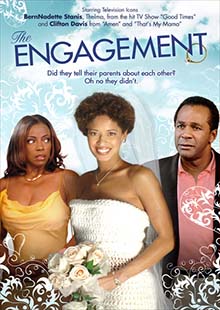 The Engagement
Own It April 08, 2008
Genre: Comedy
Runtime: 87 Minutes
UPC: MAV-5259, 824355525922
Storyline
In this hilarious comedy David, a Jewish American, asks Mia, a beautiful African American, to be his wife-but never dreams what lies ahead when he announces his engagement to his parents. When David's parents surprise him by hosting an engagement party, Mia's African American heritage might just give them the surprise of their lives! To make matters worse, David's parents want a traditional Jewish wedding and Mia's parents demand a traditional Baptist ceremony. As tensions rise throughout the day, will love prevail or will both families tear them apart?
Directed By
Ytasha Womack
Cast
Andy Gershenzon, Tenique Mathieu, Bernnadette Stanis, Clifton Davis, Wildcat, Devin Wesley
About the Crew
Starring Television icons BernNadette Stanis from the Hit TV Show 'Good Times' (Thelma) and Clifton Davis from 'That's My Mama' and 'Amen'
Dan Flannery- '8 of Diamonds'
January Stern- Fox TV series 'Prison Break'
Devin Wesley- 'Hostile Takedown'
Gallery
Gallery Images are Coming Soon.