Rent or Buy Now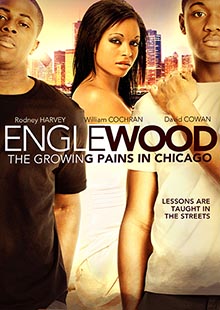 Englewood
Own It October 07, 2014
Genre: Drama
Runtime: 93 Minutes
UPC: MAV-5448, 824355544824
Storyline
Boyz In The Hood is transplanted to the modern day Chicago neighborhood of Englewood in William L. Cochran's powerful directing debut. Englewood boldly blends humor, romance, tragedy, and hope in this tale of three friends struggling to get through high school. Amid violence,peer pressure, and family dysfunction, these friends pull through. Dennis,(Cochran) tackles the main role, whose behavior conceals his talents and his new girlfriend sees through his thug exterior. Will her encouragement be enough to steer him past disaster?
Produced By
William Cochran
Directed By
William Cochran
Cast
David Cowan, William Cochran, Rodney Harvey, Aayisha Chanel
About the Crew
Boyz in the Hood meets Coach Carter.
Englewood was placed into three festivals including the San Francisco Black Film Festival, Boston's Roxbury International Film Festival and the Gene Siskel Film Center's 18th Annual Black Harvest Festival.
2012 14th Annual San Francisco Black Film Festival Winner.
Gallery