Rent or Buy Now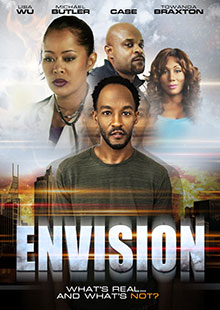 Envision
Own It October 12, 2021
Genre: Sci-Fi, Thriller
Runtime: 81 Minutes
UPC: MAV-5716, 824355571622
Storyline
Thomas had the perfect life until he lost his wife and son. After a ground-breaking surgery he is given an implant that allows him to create his own virtual reality. When the implant malfunctions, Thomas discovers a dark, long-forgotten secret.
Produced By
Greg Galloway
Directed By
Greg Galloway
Cast
Michael Butler, Towanda Braxton, Case, Lisa Wu
About the Crew
Greg Galloway is a writer, director, and producer known for The Anatomy of Love (2010), The Hills (2017), Stolen Lilies (2020), and Pinch (2020).
Towanda Braxton is an actress known for Braxton Family Values (2011-2020), Misguided Behavior (2017), Merry Wish-Mas (2018), and Stick Me Up (2022).
Lisa Wu is an actress and producer known for The Real housewives of Atlanta (2008-2017), Professor Mack (2019), Pinch (2020), and Saints & Sinners (2021).
Case is a Grammy nominated songwriter and singer best known for his hits from the 1990's and 2000's including "Touch Me, Tease Me", "Happily Ever After" and "Livin' It Up".