Rent or Buy Now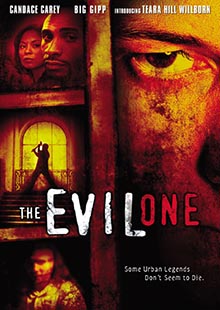 The Evil One
Own It February 15, 2005
Genre: Horror
Runtime: 112 Minutes
UPC: MAV-5103, 824355510324
Storyline
The Evil One, set in Chicago's most dangerous neighborhood, Englewood, is experiencing a number of recent murders that are the work of a serial killer. But a newspaper photographer discovers that the slayings seem to be linked to America's first serial killer HERMAN WEBSTER MUDGETT JR., who died in the late 1800's and was buried face down facing hell. Did his soul come back to seek revenge in modern day? In Englewood, some evil legends, never die.
Directed By
Parris Reaves
Cast
Candace Carrey (Drumline), Shawna, Big Gipp, Eric Lane
About the Crew
OFFICIAL SELECTION: World Showcase American Black Film Festival 2004.
Starring Candice Carey (Drumline).
Featuring Big Gipp from the Dirty South's rap group the Goodie Mob.