Rent or Buy Now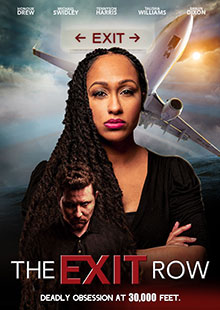 The Exit Row
Own It March 28, 2023
Genre: Drama, Thriller
Runtime: 91 Minutes
UPC: MAV-5936, 824355593624
Storyline
Sasha Dade is dedicated to her demanding, yet comfortable life as a wife, mother and advertising executive near the nation's capital. Clint Meyers is a top selling real estate agent and investor who projects sensitivity and charisma but harbors a methodical dark side. Their worlds collide when a chance encounter on a traumatic flight leads to a deadly obsession.
Produced By
Vonnetta Cornish
Directed By
Adiyb Muhammad
Cast
Honour Drew, Michael Swidley, Tennyson Harris, Talisha Williams, Shaun Dixon
About the Crew
Honour Drew is an actress know for Never Fall in Love (2017), Who Killed Jane Doe (2017), and Sweet Dreams (2021).
Shaun Dixon is an actor known for Velvert Jesus (2021) and End of the Road (2022).
Tennyson Harris is an actor known for Unplug (2020), Married & Bright (2020), and Black Oaks (2020).