Rent or Buy Now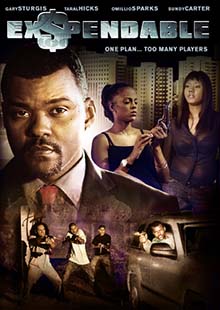 Ex$pendable
Own It October 12, 2010
Genre: Action
Runtime: 90 Minutes
UPC: MAV-5354, 824355535426
Storyline
On the streets of Philadelphia, competing gangs try to gain control of their territories, but the government sponsored informant system is becoming a nuisance to their corrupt dealings. Raffy finds out the hard way that the 'snitch-network' has hit him where it hurts most, when he discovers his wife is actually a police informant! Now that the empire that he worked so hard to create is threatened, what will he choose...his love for his wife or his loyalty to the streets?
Directed By
Frank Jackson
Cast
Gary Sturgis, Taral Hicks, Omillio Sparks, William L. Johnson, Sundy Carter, Thulisio Dingwall, Nasir "Gillie da Kid" Fard, Michael Blackson
About the Crew
Gary Sturgis - Diary of a Mad Black Woman, Daddy's Little Girls, Pride.
Michael Blackson - BET ComicView, Next Friday, P.Diddy Bad Boys of Comedy.
Sundy Carter - Next Day Air, State Property, Soul Plane, 4 Life.
Thuliso Dingwall - 'The Wire'.
Taral Hicks - Belly, The Preacher's Wife, Just Cause, A Bronx Tale.
William L. Johnson - Motives 2, Doing Hard Time, Tears of a Clown, Motives 1.