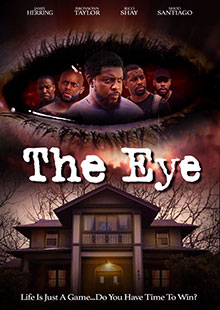 The Eye
Own It April 04, 2023
Genre: Comedy, Horror
Runtime: 77 Minutes
UPC: 824355598520, 01:17:23
Storyline
A group of kids stumble across something unfamiliar, and have no idea of the adventure that awaits them. When the games begin the eye chooses its course.
Produced By
Sonya Johnson, Ayanna Shon, Marc Raby, Marcus King
Cast
Jamel Herring, Bronsonn Taylor, Rico Shay, Shod Santiago
About the Crew
Ayanna launched CBA film studio in her home town, a full-service production company focused on creating original content with a driven focused in green screen music video production. She is known for Put Up or Shut Up (2017), Star the Film (2018), and Christmas Hypnosis (2021).