Rent or Buy Now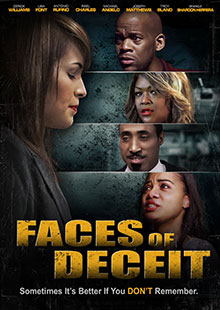 Faces of Deceit
Own It September 20, 2022
Genre: Drama, Thriller
Runtime: 101 Minutes
UPC: MAV-5823, 824355582321
Storyline
Akira Santiago suffers from short-term memory loss. She spends almost two years of her life trying to figure out what happened in her past. What she finds out will change her forever.
Produced By
Michael Angelo
Directed By
Michaell Angelo
Cast
Zerrick Williams, Lisa Font, Antonio Rufino, Rael Charles, Michael Angelo, Joseph Matthews, Troy Bland, Sparkle Shardon Herrera
About the Crew
Michael Angelo is an actor and writer known for Jack Squad (2009), Imprisoned by Love (2013), and Single in the ATL (2012).
Zerrick Williams is an actor, known for Game Night (2018), The Outsider (2020) and Loud (2014).