Rent or Buy Now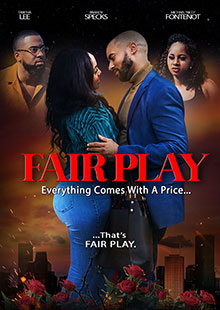 Fair Play
Own It May 24, 2022
Genre: Romance, Thriller
Runtime: 99 Minutes
UPC: MAV-5839, 824355583922
Storyline
Sisters, Freedom and Sasha, learn that when it comes to love, everything has a price...that's just FAIR PLAY.
Produced By
Contrina Jenkins, Brandon Kelly, Rhonda Adams, Courtney Dirden, Corey Wright
Directed By
Contrina Jenkins
Cast
Tabitha Lee, Brandy Specks, Michael "Nico" Fontenot
About the Crew
Contrina Jenkins is a writer, director, and producer known for Definition of Manhood (2020), Fair Play (2022), and Pipe Dreams (2022).
Brandy Specks is an actress known for How to Get Away with cheating (2018), Behind Closed Doors (2020), and 3 Way (2021).