Rent or Buy Now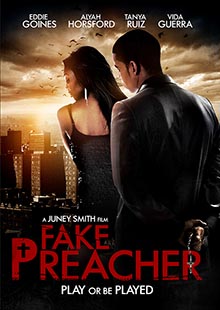 Fake Preacher
Own It November 10, 2015
Genre: Drama, Inspirational
Runtime: 85 Minutes
UPC: MAV-5443, 824355544329
Storyline
The story of a preacher in Harlem, New York who builds a successful church by fleecing the congregation. Losing his way and taking the dishonest path, this causes havoc in his life and in others, until it reaches a life and death situation. While he repent or redeem himself? Or is it too late to be saved?
Produced By
Juney Smith, Ron Wolf
Cast
Stan J Adams, Eddie Goines, Alyah Horsford, Tanya Ruiz, Vida Guerra
About the Crew
Vida Guerra - Introduced in a '02 photo shoot and has become one of the planet's most lusted-after women. Actress, known for Mercy for Angels (2015), Dorm Daze 2 (2006) and Scarface: The World Is Yours (2006).
Guerra cracked the top 10 among the Internet's most searched-for female celebrities, joining the likes of Pamela Anderson, Paris Hilton, Carmen Electra and Oprah Winfrey.
Eddie Goines - Went on to be drafted by the Seattle Seahawks, and play in the NFL before career ending knee injuries. Known for House of Payne, The Coalition (2015), Finding My Obama (2012), Beyonce: If I Were a Boy Video (Husband).
Tanya Ruiz - Known for her role in Carlita's Secret with Eva Longoria Juney Smith is an actor and producer, known for Lethal Weapon 2 (1989), Good Morning, Vietnam (1987) and Champion Killer (1994).
Gallery