Rent or Buy Now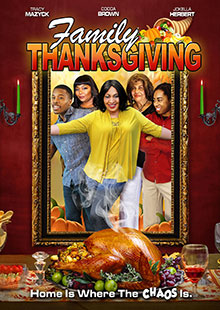 Family Thanksgiving
Own It November 02, 2021
Genre: Comedy, Drama, Holiday
Runtime: 84 Minutes
UPC: MAV-5794, 824355579420
Storyline
When returning home for Thanksgiving, Elliot, tries to keep cool with his meddlesome, dysfunctional family.
Produced By
Jeanelle Warren & Derrick Hammond
Directed By
Jeanelle Warren
Cast
Tracy Mazyck, Jokella Herbert, Cocoa Brown
About the Crew
Jeanelle Warren is a director and producer known for Pop Trigger (2016-2017), Murder with Friends (2016-2017), and Aquaired Taste (2021).
Cocoa Brown is an actress known for The Single Moms Club (2014), Ted 2 (2015), American Crime Story (2016), His, Hers & The Truth (2019), and Netflix's Never Have I Ever (2020-2021).
Tracy Mazyck is known for Miracle at St. Anna (2008), Short Comings (2017), and Homicide Hunter (2020).