Rent or Buy Now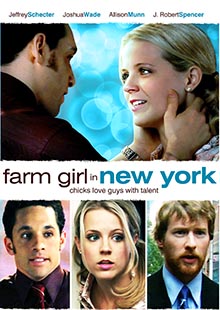 Farm Girl in New York
Own It February 01, 2011
Genre: Comedy
Runtime: 82 Minutes
UPC: MAV-5367, 824355536720
Storyline
Sam and Matt flee their small mid-western town for New York City, where hot girls roam the streets! After months of trying to pick up ladies and failing miserably, they come up with the idea to hold a fake audition to meet chicks. Hilarity ensues when dozens of sexy, talentless, babes show up and compete for a job that doesn't exist. However, when an out of town farm girl shows up for the audition they are instantly smitten. Will these phony auditions come in the way of them finding true love?
Directed By
J. Robert Spencer
Cast
Allison Munn, J. Robert Spencer, Jeffrey Schecter, Joshua Wade
About the Crew
Allison Munn - 'One Tree Hill', 'That '70s Show', 'What I Like About You', 'Now and Again', 'Carpoolers', Elizabethtown.
Chryssie Whitehead - Save the Last Dance, 'Boston Public'.
Jeffrey Schecter - Broadway's A Chorus Line 'Saved by the Bell: The New Class', .
Joshua Wade - American Dreamz, Adam and Eve, In & Out.
J. Robert Spencer - Nominated for a Tony Award for Best Performance for a Leading Actor in a Musical for 'Next to Normal'. 'Jersey Boys'.
J. Elaine Marcos - starring in upcoming blockbuster 'Morning Glory' opposite Harrison Ford. .
Including a fantastic cameo from Max Weinberg - Late Night Show with Conan O'Brien and famed for years of playing drums with Bruce Springsteen.
'J. Robert Spencer is a filmmaker who will have to be dealt with. His visual style is imaginative and very well executed.' - Joel Zwick, Director, My Big Fat Greek Wedding.
'Farm Girl in NY is a funny, smart and even touching comedy. It is a story well told and very well acted.' - Joel Zwick, Director, My Big Fat Greek Wedding.