Rent or Buy Now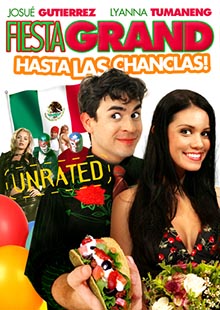 Fiesta Grand
Own It October 21, 2008
Genre: Comedy
Runtime: 95 Minutes
UPC: MAV-5292, 824355529227
Storyline
When James and Monica announce their wedding plans Monica's parents are less than thrilled. Her parents decide to do what they think is best for their daughter and try to ruin the wedding by any means necessary! The hilarity continues as James's band of colorful friends put together the ultimate bachelor party. With all this madness, only one thing is certain... the wedding may be tomorrow, but the Fiesta Grand is tonight!
Directed By
David Basulto
Cast
Josue Gutierrez, Lyanna Tumaneng, Eli T Pena, Jose Luciano, Sandra Rivera, Manny Dortanieves, Anthony E Valentin
About the Crew
Website: http://www.thefiestagrand.com/
Promoted on Maverick's corporate Facebook and Myspace pages
Has a producer created Myspace page and Myspace Video page
Josue Gutierrez- Bail and the TV show 'Amor Descarado'
Lyanna Tumaneng- Host of the television show Hot Spots! One of Orlando's top models.
Actress in the new movie Zombies, Zombies, Zombies.