Rent or Buy Now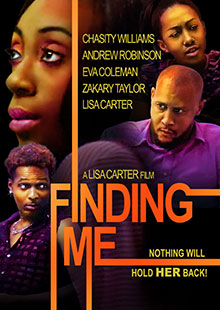 Finding Me
Own It July 02, 2019
Genre: Thriller
Runtime: 90 Minutes
UPC: MAV-5597, 824355559729
Storyline
Naomi loses everything she ever had in her life and it begins to bring her down. After numerous problems and deaths, these tragic things start to take control of herself. The thoughts progress until she grows stronger in her faith to not let go and gain control of her own life.
Produced By
Lisa Carter & Robert L. Parker III
Directed By
Robert L Parker III
Cast
Chasity Williams, Andrew Robinson, Eva Coleman
About the Crew
Robert L. Parker III is a director known for A Troubled Mind (2015), The Come Up (2017), and Moma's Spirit (2018).
Eva Coleman is an actress known for Robo-Dog: Airborne (2017), Market Value (2017), and Triggered (2019).
Amiya Harris is an actress known for Shifting Gears 2016, Soldier's Joy (2018), Cecil (2019).
Gallery