Rent or Buy Now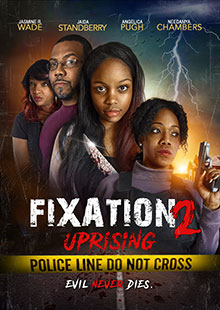 Fixation 2: Uprising
Own It October 22, 2019
Genre: Thriller
Runtime: 70 Minutes
UPC: MAV-5611, 824355561128
Storyline
Three years after the accused Grant Park killer is released from prison. FBI Agent Dana Malone takes a special interest into the case. She uncovers a murderous secret that takes a mother searching for her daughter in a whole new direction. Agent Malone discovers the real truth behind Samantha's disappearance and how social media plays a big influence.
Produced By
Bobby M. Peoples and Renee Peoples
Directed By
Bobby M. Peoples and Renee Peoples
Cast
Jasmine R. Wade, Angelica Pugh, Jaida Standberry
About the Crew
Bobby Peoples is a producer, director, and actor known for The Last Assignment, Taboo, Dexter's Guide to Dating and Fixation which is one of Maverick's top performers. Due to many requests for a sequel and the performance of part 1, Maverick Entertainment and The People's Network teamed up and present to you Fixation 2: Uprising.
Tobie Famusipe is an actor known for Fatal Attraction (2017), The Confession of a Black Man (2017), and The Perfect Prayer.
Nytia Nikole is an actress and director, known for ATL Homicide (2018), Murder Chose Me (2017) and The Christmas Swap (2016).
Gallery