Rent or Buy Now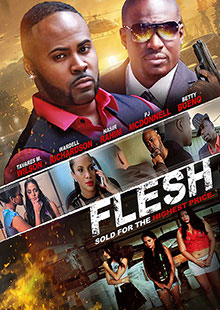 Flesh
Own It January 10, 2017
Genre: Crime, Thriller
Runtime: 97 Minutes
UPC: MAV-5524, 824355552423
Storyline
Brothers Alonzo and Casper run their city from different points of the spectrum with Alonzo serving as the Chief of Police and Casper the biggest street king in the city. When their youngest brother Nick returns home he's immediately drawn into the middle of the brother's feud and an even bigger threat as the seductive Eve threatens Casper's empire with her growing human trafficking business. With the brothers now caught between the cartel and the law they must decide if blood is thicker than water in this story of loyalty, betrayal, and the ultimate sacrifice.
Produced By
Tavares Wilson, Marlo Gardner, Wardell Richardson
Directed By
Rodney Jackson
Cast
Tavares Wilson, Nasir Rahim, Wardell Richardson, Betty Beuno, PJ McDonnell
About the Crew
Rodney Jackson is a cinematographer and director, known for The Actor's Corner with Marlo Gardner (2015), Flesh (2015) and The 30 Day Rule.
Tavares Wilson is an actor and writer, known for Awake (2014), The Man That Ran Still: A Joe Sisco Story (2010) and Exit (2008).
Betty Bueno is an actress, known for Lost Without You (2010), Deceptive Hearts (2015) and Flesh (2015).
Wardell Richardson is an actor and casting director, known for The Last Time (2016), Addiction by Subtraction (2016), and The Anatomy of Love (2010).
Gallery