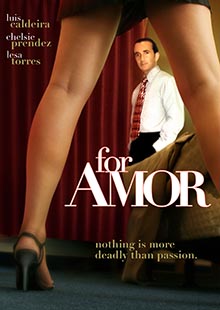 For Amor
Own It February 13, 2007
Genre: Drama
Runtime: 84 Minutes
UPC: MAV-5207, 8-24355-52072-9
Storyline
Santiago has it all! Possessing a sexy, young wife, Claudia, a great prestigious career and a beautiful home, his life is rich. Although devoted to his wife, the one thing Santiago desires badly, but Claudia cannot give him, is a child.While on a business trip to Mexico, Santiago risks it all when he meets Esmeralda who is -muy caliente -too hot to resist. When he returns home, Santiago is remorseful about betraying his wife. Before long, Esmeralda arrives to reveal her shocking secret to Santiago, and, soon his whole life comes crashing down around him.
| Directed By | Cast |
| --- | --- |
| Matthew Ramirez and Sergio Ramirez | Luis Caldeira, Chelsie Prendez, Lesa Torres |
About the Crew
• A sexy, smart romantic comedy with a twist that viewers will watch straight through to the final credits.
Gallery
Gallery Images are Coming Soon.