Rent or Buy Now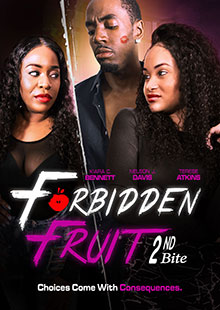 Forbidden Fruit: 2nd Bite
Own It March 01, 2022
Genre: Thriller
Runtime: 85 Minutes
UPC: MAV-5715, 824355571523
Storyline
The taste of forbidden fruit is strong, and if the players aren't careful, they may be swallowed whole.
Produced By
Bobby M. Peoples and Renee Peoples
Directed By
Renee Peoples and Bobby M. Peoples
Cast
Nelson J. Davis, Kiara C. Bennett, Terese Atkins
About the Crew
Bobby Peoples is a producer, director, and writer known for Taboo (2016), Fixation (2018), Domestic Warfare (2020), and Taboo 2 (2020).
Nelson J. Davis is an actor and director known for Secure the Bag (2019), Unwitting Deceit (2020), Ultimatums (2020), and Kingdom Men (2020).
Kiara C. Bennett is an actress known for Peace Be Steel (2019), Reindeer Games (2020), and Concealment (2021).