Rent or Buy Now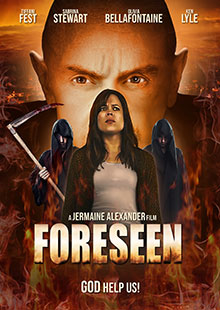 Foreseen
Own It January 08, 2019
Genre: Horror
Runtime: 75 Minutes
UPC: mAV-5572, 824355557220
Storyline
Karmen Moncrille's name has been known throughout the world since the age of sixteen when her first book shot to the top of the bestseller's list. Now everything she writes is an instant hit, and her legions of devoted fans eagerly await her next release. The mysterious Karmen always blamed debilitating panic attacks as the reason she avoided publicity and has become a recluse. Which is exactly what she wants the world to think. Only Karmen knows the truth behind her introverted nature. Terrified of being asked where her ideas come from, she fears being branded a raving lunatic. Now just a week before her twenty-third birthday, Karmen's world implodes. The madness that haunts her dreams spills over to her reality and she questions her sanity. Suddenly everything has changed and now the world will transform with her. Her last book will unleash the truth and alter mankind - forever.
Produced By
Jermaine Alexander & Sabrina Stewart
Directed By
Jermaine Alexander
Cast
Sabrina Stewart, Tiffani Fest, Olivia Bellafontaine, Robert Fleury, Lenny Welch, Jack Pitchon
About the Crew
Jermaine Alexander is an actor and director, known for Foreseen (2017), Sister Code (2015) and Rehab (2017).
Tiffani Fest is an actress known for 'Circus of the Dead' (2014), 'Krampus: The Devil Returns' (2016), 'Welcome to Hell' (2018).
Ken Lyle is an actor, known for The League of S.T.E.A.M. (2010), Johnny Games and The Last Heist (2016).
Darrell Philip is an actor, known for The Algerian (2014), Meteor Apocalypse (2010) and Prophecy of Eve (2014).
Sabrina Stewart is an actress and producer, known for 'Salt, Liquor Lime' (2014), 'Eternal' (2014) and 'Ruined Wings' (2018).
Gallery