Rent or Buy Now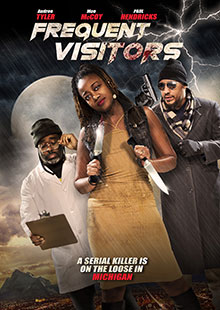 Frequent Visitors
Own It February 11, 2020
Genre: Horror
Runtime: 114 Minutes
UPC: MAV-5633, 824355563320
Storyline
Frequent Visitors follows the inner struggles of a female constantly at war with herself; and the confident detective determined to prove his ability. Who will be defeated? Who will conquer?
Produced By
Moe McCoy, Paul Hendricks, Andrea Tyler
Cast
Andrea Tyler, Terence Banks, Moe McCoy
About the Crew
Moe McCoy is an actor and producer, known for The Perfect Romance (2017), Weekend in Texas (2017) and Black Cowboy (2019).
Terence A. Banks is an actor, known for Hoodfellaz Redux (2017), Ten Miles Back (2017) and Angel Horror Film (2017).
Andrea Tyler is an actor and writer known for District (2018) and Black Cowboy (2019).