Rent or Buy Now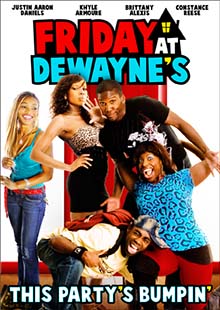 Friday at Dewayne's
Own It July 21, 2009
Genre: Comedy
Runtime: 101 Minutes
UPC: MAV-5278, 824355527827
Storyline
Dewayne's parents have gone out of town for the weekend and his best friend has come up with a scheme to throw a house party while they are away. Finally giving in to the promise of one crazy night Dewayne plans the biggest house party of the year. But before Dewayne can enjoy the party he finds himself in trouble with just about everyone from his neighbors to his principal and even his nosey Grandma. Will Dewayne be able to fix everything before his parents get home, or will be in even more trouble tomorrow?
Directed By
Marcello Thedford
Cast
Justin Aaron Daniels, Khyle Armoure, Brittany Alexis, Constance Reese
About the Crew
House Party meets Friday in this outrageous comedy
Gallery
Gallery Images are Coming Soon.