Rent or Buy Now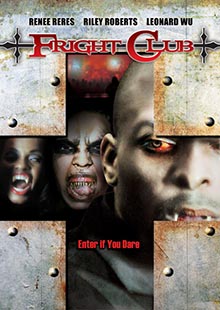 Fright Club
Own It May 09, 2006
Genre: Horror
Runtime: 86 Minutes
UPC: MAV-5176, 824355517620
Storyline
A horror triple-threat! Three friends arrive at a bizarre art gallery rumored as the home of an exclusive underground fright Club. Once inside, the culturally diverse friends, Omar, Kassandra and Dante meet the sexy and alluring curator, Vashista who tells them of the Fright Club founder, Sebastian Crowe, a turn-of-the century Renaissance man. But to get into the secret society of the Fright Club each must tell their most horrifying scary story as an initiation.Kassandra starts with Little Red Riding in the Hood, a werewolf tale. Next is Omars with the legend of The Boy Who Cried Vamp, about a vampire. It all ends with Dantes Spare Parts, an Frankenstein myth. Are their stories terrifying enough to be welcomed into the Fright Club? Find out.
Cast
Steve Wastell, Paula Ficara, Riley Roberts, Leonard Wu, Renee Reres
About the Crew
A Terror Trilogy, Fright Club delivers three horrific stories guarenteed to scare! In the essence of Tales From the Crypt, Fright Club reveals scarry versions of Little Red Riding in the Hood, The Boy Who Cried Vamp, and Spare Parts, literally.