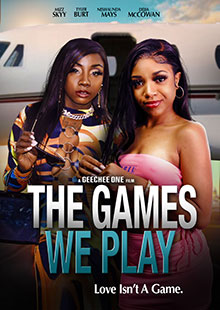 The Games We Play
Own It September 05, 2023
Genre: Thriller
Runtime: 82 Minutes
UPC: MAV-5984, 824355598421
Storyline
Married and settled, Beejay and Montez, are so busy that they have not been intimate in months. When Beejay confesses this detail to her girlfriends, they convince her that all men cheat, and that they can prove it.
Produced By
Felicia Rivers, Isaac Hilton Jr.
Directed By
Felicia Rivers
Cast
Mizz Skyy, Tyler Burt, Neshaunda Mays, Dejia McCowan
About the Crew
Felicia Rivers is a director, writer, and producer known for Treasure Box (2021), Suga Babies (2021), Tiffany the Doll (2022), and The Color of Green (2023).
Dejia McCowan is an actress known for Pimpstress (2021), Memoirs of a Viixen (2023), and Insatiable (2023).