Rent or Buy Now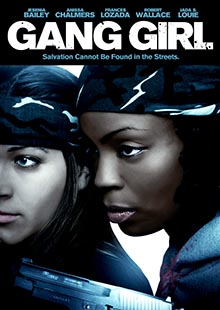 Gang Girl
Own It March 23, 2010
Genre: Action
Runtime: 90 Minutes
UPC: MAV-5341, 824355534122
Storyline
Shakira is a young girl from the Bronx who has joined the neighborhood gang for friendship and protection. But the crimes she commits as part of the gang lead to consequences she isn't willing to face. Forced into the 'Scared Straight' program she meets a former gang leader who begins to show her a different way of life. For Shakira this is just the start down an unlikely road to redemption.
Directed By
Damian Bailey
Cast
Anissa Chalmers, Jesenia Bailey, Frances Lozada, Jada S. Louie, Tracy Wilson, Squeaky Moore, Maryam Fatima
About the Crew
Jesenia Bailey - Big Wes, We Fall Down.
John O. Nelson - Coupled with Love, Death of a B Boy, Doing the L.A. Thing, Gone.