Rent or Buy Now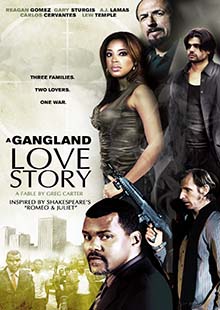 A Gangland Love Story
Own It July 20, 2010
Genre: Action
Runtime: 99 Minutes
UPC: MAV-5347, 824355534726
Storyline
Julia, the protected baby sister of a feared African American crime lord, and Romano, the nephew of a rivaled leader in a Latino organization, have fallen in love and runaway together. Their getaway vehicle of choice: a customized Cadillac convertible. Before long they discover that the customized wheels and rims on their getaway car are packed with 20 million dollars in drugs! Now, their lovers' getaway has set off a cross-country chase involving both crime lords and the Russian Mafia.
Cast
A.J. Lamas, Reagan Gomez, Gary Sturgis, Carlos Cervantes, Lew Temple, Junie Hoang, Brandon Smith
About the Crew
Reagan Gomez-Preston -'The Cleveland Show', Trois 3: The Escort, Love Don't Cost a Thing, 'The Parent 'Hood', 'Love, Inc.'.
A.J. Lamas- 'American Family', 'As the World Turns', 'Leave It to Lamas'.
Gary Anthony Sturgis - Daddy's Little Girls, Pride, Diary of a Mad Black Woman, 'Port Charles'.
Lew Temple- Trailer Park of Terror, Rob Zombie's Halloween, The Texas Chainsaw Massacre: The Beginning, 21 Grams.
Gary Cervantes- 'Chicago Hope', 'The West Wing', Fracture, Baja Beach Bums.
Brandon Smith- 'Friday Night Lights', 'Walker, Texas Ranger', RoboCop 2.
Desiree McKinney- 'Friday Night Lights', 'As the Bell Rings'.