Rent or Buy Now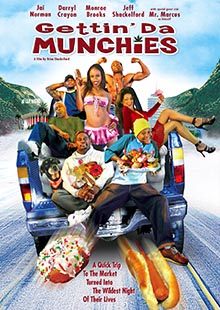 Getting Da Munchies
Own It July 12, 2005
Genre: Comedy
Runtime: 86 Minutes
UPC: DVD: MAV-5081, DVD: 824355508123
Storyline
With his parents out of town and his girlfriend at work, Jai is hosting a video game tournament for his friends. His girlfriend finds out and they get into an argument. Jai's friends convince him smoking marijuana for the first time will make him feel better. Jai is immediately consumed with a case of the munchies and goes on a food run with two other guys. The trip leads them into a comedy of errors where they encounter gangsters, a dangerous dog, and mean little girls. They come back empty handed, losing their car and their clothes.
Directed By
Brian Shackelford
Cast
Jai Norman, Darryl Crayon, Monroe Brooks, guest star Mr. Marcus
Gallery
Gallery Images are Coming Soon.