Rent or Buy Now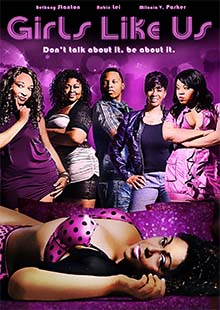 Girls Like Us
Own It October 22, 2013
Genre: Drama
Runtime: 74 Minutes
UPC: MAV-5427, 824355542721
Storyline
Keisha is intimately involved in two relationships, one with a wonderful man and the other is a secret affair with a woman. Keisha has been hiding her relations from her family and friends for months and the pressure from her relationships is leaving her torn. Feeling the pressure to either end the other relationship or to take the plunge, Keisha must choose between the love of her life or to fit within the status quo.
Directed By
James McFarland, Chan Smith
Cast
Bethany Stanton, Robin Lei, Milonia V. Parker, Bionca Monroe, Anthony Phillips, Nsenga Wilson, Debra Bias, Latanya msTc Lee
About the Crew
Won Best Cinematography - St. Tropez International Film Festival, 2013.
Nominated for the 'Ready for distribution', category at the Florida Media Market Film Festival, 2013.
Nominated for the Out Music Awards Best Song - 'Lefty Luciano' 2012 in Las Vegas.
Gallery