Rent or Buy Now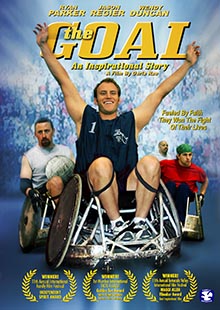 The Goal
Own It October 10, 2006
Genre: Drama
Runtime: 99 Minutes
UPC: MAV-5197, 824355519723
Storyline
Based on a true story, 'The Goal' is an uplifting story that will touch your heart like no other. It is the compelling story of faith, and the miracles God sends to us when faced with adversity. Steve and Jason are two talented and goal-oriented athletes, one on track to the Olympics and the other to Pro Soccer. Tragic accidents bring them together. With the help of family and God, the young men conquer the obstacles and challenges before them as they start to rebuild their lives. These two adrenaline-rush junkies discover a team sport worthy of their highly competitive spirit, Quad Rugby. This fast-paced sport designed for quadriplegics combines elements of basketball, football and ice hockey. Quad Rugby is also known as Murderball because of the aggressive nature of the game. The sport renews their vigor, and Steve and Jason start to live life again, a new life that is different not over.
Cast
Ryan Parker, Jason Regier, Wendy Duncan, Gale Grove, Jason Coviello, Featuring the Denver Harlequin Wheelchair Rugby Team
About the Crew
Awarded Four Dove Foundation 'Family-Approved' Seals
Winner Independent Spirit Award - International Family Film Festival
Winner - Best Inspirational Film Category - 11th Annual Temecula Valley International Film Festival
Golden Ten Award Winner - Best Sports Based Feature Film Category - Mumbai International Film Festival
Lombardi Award Winner - Sport Movies & TV Category 24th Milano International FICTS Festival 2006
Best Local Sports Film - Westword 2007
Gallery
Gallery Images are Coming Soon.