Rent or Buy Now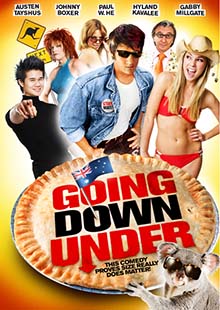 Going Down Under
Own It April 14, 2009
Genre: Comedy
Runtime: 86 Minutes
UPC: MAV-5304, 824355530421
Storyline
Coming of age is difficult for any young boy, but it is a little harder for Jono Smith. His secret fetish for kitchen appliances has caused him to lose his manhood in a flight of passion. Fortunately the recent death of a porn star makes a transplant possible and with the help of his crazy friends Jono just might get laid again.
Cast
Austen Tayshus, Johnny Boxer, Hyland Kavalee, Paul W. He, Jo Aston, Gabby Millgate
About the Crew
Xavier Fernandez Fools Gold with Matthew McConaughey and Kate Hudson
Sandy Gutman - The Big Fish, Holy Smoke
Ed Kavalee- 'Thank God You're Here'
John Boxer- 'Pizza', Solo, Fink!