Rent or Buy Now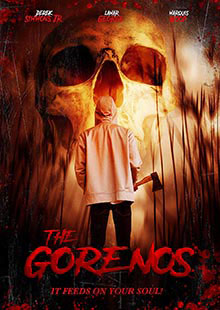 The Gorenos
Own It May 09, 2017
Genre: Horror
Runtime: 81 Minutes
UPC: MAV-5528, 824355552829
Storyline
A young man named Miles has been experiencing strange occurrences that he can't explain. Things only worsen after his 18th birthday. It isn't long before Miles learns that he's being haunted by a vicious supernatural entity known as the Gorenos.
Produced By
Dione M. Williams, Clarence Williams IV, Lj Ugarte
Directed By
Clarence Williams IV
Cast
Derek Simmons Jr., Ken Sagoes, Lamar George, Marquis Wood, Aidaa Peerzada
About the Crew
Clarence Williams IV is a director, writer, and producer known for 'Love is a Growing up' (2015), 'Lacerate' (2017), and 'How We Roll' (2017).
Ken Sagoes is an award winning writer and actor. He's a former staff writer with Paramount Television, won a CableAce Award and was a HUMANITAS Prize Finalist for writing and co-starring in Disney Channel's 'On Promised Land'. He has over 100 film, TV, and stage credits including 'Nightmare on Elm Street 3' (1987), 'Nightmare on Elm Street 4' (1988), 'Intolerable Cruelty' (2003), The Bernie Mac Show (2004), and many more.
Mitchell Edwards is an actor, known for Bedeviled (2016), Roxanne Roxanne (2017) and Burning Sands (2017).
LJ Ugarte is a producer, writer, and actor known for 'Bleu' (2016), 'Eye IWatch' (2017), 'Pre-Judge Us' (2017), and 'Changing Thoughts' (2017).
Gallery