Rent or Buy Now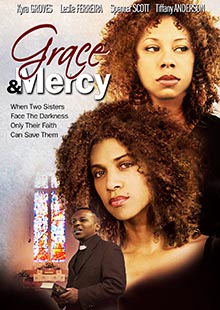 Grace & Mercy
Own It December 19, 2006
Genre: Drama
Runtime: 82 Minutes
UPC: MAV-5208, 824355520828
Storyline
Inspired by true events, Grace & Mercy is the story of two desperate sisters whose lives are forever changed by one fateful decision. 'By trusting the Lord would provide 'a ram in the bush'. In poor health and dead broke, Mercy has a plan to financially provide a good future for her young daughter. With the help of her sister Grace, she robs her former employer. A silent alarm goes off during the robbery, and the two women escape into a nearby church. They hold the police back by taking the Pastor and his staff hostage by gun point. Outside, the LAPD try to avoid another public relations disaster by keeping the hostage situation quiet and the local media away. Inside, the captive Pastor and his church staff ease a potentially dangerous situation with their good-natured teasing and spiritual guidance. At the end of the day, the church members become a new family to the anxious sisters, who have learned to trust in the Lord. But will the Lord provide HIS own Grace & Mercy for these two troubled siblings?
Directed By
Derrick Peete
Cast
Kyra Groves, Leslie Ferreira, Spencer Scott, Tiffany Anderson, Jennifer Johnson, Harace Carpenter
About the Crew
Perfect to meet the demand of Consumers Wanting More Inspirational Product.
Fill Your Store Shelves with The Fastest Growing Genre
Gallery
Gallery Images are Coming Soon.