Rent or Buy Now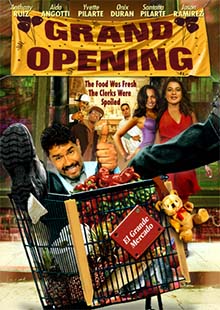 Grand Opening
Own It May 16, 2006
Genre: Comedy
Runtime: 84 Minutes
UPC: MAV-5177, 824355517729
Storyline
After just being laid-off from his assistant manager job at Winn Supermarket, Pablo Mercado buys a scratch-off ticket on his way out the door and hits it BIG! and now, his greatest dream seems possible: to open his very own supermarket El Osso Grande (The Big Bear). But with Pablos new found wealth comes new found problems. First, he has to split his winnings with his ex-wife by making her co-owner. Then, the perfect location for his store turns out to be right down the street from Winns; now his rival.Determined to succeed, Pablo hires a dysfunctional but supportive store staff - his twenty-something year-old daughter and cashier, (with big plans of her own), the Worlds Fastest Bagger and his army of bag boys, a stockroom clerk with an unusual talent with knives, a butcher whos afraid of blood, and a gossiping security guard who likes to hit on the male customers more than fighting crime. With the help of his loyal employees, Pablo does all he can to survive his Grand Opening!
Cast
Anthony Ruiz, Aida Angotti, Onix Duran, Santana Pilarte, Brent Buell, Yvette Pilarte, Jason Ramirez
About the Crew
Hilarious Latino Ensemble Comedy This Cast of Characters Really Push the Envelope to Depicts the Zaniness of your typical store Grand Opening
Gallery
Gallery Images are Coming Soon.