Rent or Buy Now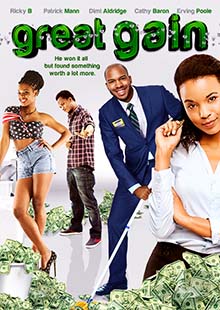 Great Gain
Own It October 08, 2013
Genre: Drama
Runtime: 107 Minutes
UPC: MAV-5414, 824355541427
Storyline
Isaac is a janitor whose livelihood is in jeopardy when his boss tries to cut his job in order to save money. When it seems he has finally gotten the best of Isaac, a misunderstanding at a convenience store puts a winning lottery ticket in Isaac's hands. Isaac purchases the company in attempts to get back at Henry for the troubles he caused at work. Isaac's world has been turned around but after gaining so much he may be on the edge of losing it all.
Directed By
Jeffery Peterson
Cast
Ricky B., Erving Poole, Dimitria Aldridge, Patrick Mann and Cathy Baron
About the Crew
Positive critic reviews on asouth.com and cruciflicks.net.
Good viewer reviews on christiancinema.com, christianfilmguide.com and christianfilmdatabase.com.
Christian values and life lessons ~ Underdog Wins and Wins the Girl.
Gallery