Rent or Buy Now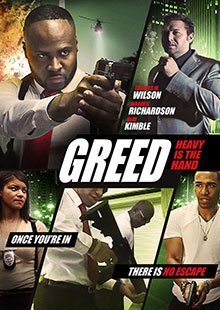 Greed: Heavy Is the Hand
Own It January 09, 2018
Genre: Action, Thriller
Runtime: 76 Minutes
UPC: MAV-5542, 824355554229
Storyline
A team of professional hitmen take on a job that gets them caught between political agendas, cops, and a dangerous arms dealer. Alex and Reaper lead a team of highly trained hitmen who have seemingly quiet lives and full time careers. The balance between normal life and what they do on the side begins to take a toll on the team as members of the team start to look at life after and getting out while they still can. After the team eliminates a client, arms dealer Victor Maiden unleashes an unstoppable assassin known as The Ghost to hunt down the team and eliminate them. Pressed back into action, the team will come together once again to stave off the insurmountable threat while keeping their personal lives intact.
Produced By
Tavares M. Wilson, Rodney Jackson, and Wardell Richardson
Directed By
Rodney Jackson
Cast
Tavares M. Wilson, Wardell Richardson, Blue Kimble, Harley Castro, Will Jeziorski, Jules Nobles
About the Crew
Rodney Jackson is a cinematographer and director, known for Flesh (2015), The Actor's Corner with Marlo Gardner (2015) and The 30 Day Rule (2018).
Wardell Richardson is an actor and casting director, known for Flesh (2015), The Last Time (2016), Addiction by Subtraction (2016) and The 30 Day Rule (2017).
Tavares Wilson is an actor, producer and writer, known for Awake (2014), Flesh (2015), and The 30 Day Rule (2017).
Blue Kimble is a former NFL player turned actor known for Being Mary Jane (2014), What Love Will Make You Do (2015), and Media (2017).
Gallery