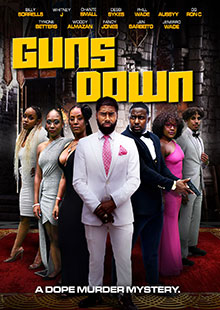 Guns Down
Own It December 12, 2023
Genre: Crime, Mystery
Runtime: 102 Minutes
UPC: MAV-6068, 824355606829
Storyline
Ten criminals are invited to the estate of one of the most major drug lords in the US for the chance to win $5 million dollars and leave the drug game. However, the game could risk their lives and everything they built.
Produced By
Joseph A. Elmore Jr., Troy Wooten, Candy Gonzales, Linda A. Wu, Sherreco Allen, Neil Harris
Directed By
Joseph A. Elmore Jr.
Cast
Billy Sorrells, Whitney J, Chante Small, Dessi Sykes, Phill Wade, Aussyy, OG Ron C, Tyrone Betters, Woody Almazan, Fancy Jones, Jen Barbeito, Jenerro Wade
About the Crew
Joseph A. Elmore Jr. is a writer, director, and producer known for How to Get Away with Cheating (2018), Complex (2021), Gutter (2022), and Platinum (2022).
Billy Sorrells is an actor and comedian known for Don't Shoot (2017), One Crazy Christmas (2018), Hip Hop Family Christmas (2021), and Hip Hop Family Christmas Wedding (2022).
Tyrone Betters is an actor known for No Better Love (2022), A True Christmas (2022), Gunns Down (2023), Perc 30 (2023), and DIRT (2024).
Fancy Jones is an actress known for Dirty Thirty , Guns Down (2023), and False Profits (2024).