Rent or Buy Now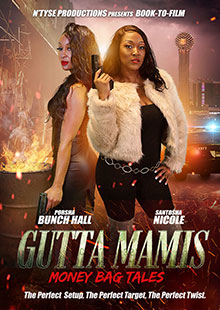 Gutta Mamis
Own It November 03, 2020
Genre: Thriller
Runtime: 83 Minutes
UPC: MAV-5653, 824355565324
Storyline
Shinette and Tierra have always vowed to ride-or-die for one another. So when opportunity knocks, it's time to do what they do best — get to the bag! It was supposed to go down like all of the others, except this time, they walk away from the scene with a body on their hands. As long as Tierra sticks to the script and doesn't utter a word, there's nothing to worry about. But once fear and desperation seep in, it's not long before she finds herself confiding in her on-again-off-again boyfriend, Duke — breaking her pact and setting off a chain of events that leaves every woman for herself. Their chase to get the bag, just might land them inside of one!
Produced By
N'Tyse & Arthur Muhammad
Directed By
Arthur Muhammad
Cast
Santosha Nicole, Porsha Bunch Hall, Sophia Knolton, Savanna Jordyn
About the Crew
"N'Tyse' is a prolific literary luminary, novelist-screen writer documentarian and film producer. Her works have been highlighted in Library Journal, USA Today, Dallas Morning News, DonDiva Magazine, and many more. To date, N'Tyse has created and executive produced two documentaries, a book-to-film feature, and has authored-ghostwritten eleven novels, two self-help books, and three anthologies. Her proudest entrepreneurial undertaking and labor of love is her boutique consulting/book agency, C-Suite Literary Studio, where she works alongside fellow visionary content creators.
Arthur Muhammad is an editor and director, known for Sweet Justice (2009), Carter High (2015), and First Impression (2018).
Santosha Nicole is an actress known for Love & Drugs (2018), Black Diamond (2019), and Love Torn Between Two (2020)
Sophia Knolton is an actress known for Carter high (2015), Stolen Virginity (2016), Tatted Souls (2017), and Thanksgiving with the Carter's (2019).
Gallery