Rent or Buy Now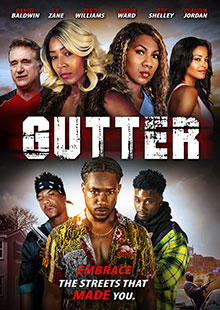 Gutter
Own It January 18, 2022
Genre: Crime, Thriller
Runtime: 128 Minutes
UPC: MAV-5809, 824355580921
Storyline
Raised in poverty, Gutter realizes thriving in this world, means embracing the streets that made him.
Produced By
Joseph A. Elmore Jr., Latoya Ward, Troy Wooten, T. Denise Johnson, Folusho Peters
Directed By
Joseph A. Elmore Jr.
Cast
Zeno Williams, Latoya Ward, Daniel Baldwin, Claudia Jordan, Lil Zane, Jeff Shelley
About the Crew
Joseph A. Elmore Jr. is a writer, director, and producer known for How to Get Away with Cheating (2018), Complex (2021), and She Sexy (2021).
Daniel Baldwin is an actor known for Grey Gardens (2009), Deadly Sanctuary (2017), The Last Big Save (2019), and The Christmas Project Reunion (2020).
Claudia Jordan is an actress and talk show host known for The Apprentice (2009-2015), The Real Housewives of Atlanta (2014-2021), and Dear Frank (2019).
Lil Zane is an actor known for Dr. Dolittle 2 (2001), Love by Chance (2017), and BMF (2021).