Rent or Buy Now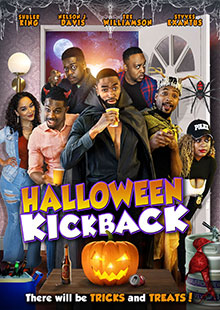 Halloween Kickback
Own It September 28, 2021
Genre: Comedy
Runtime: 70 Minutes
UPC: MAV-5743, 824355574326
Storyline
Three friends who went through college together find themselves in a financial bind after graduating college. They throw a Halloween party to raise money to get their lives on track.
Produced By
Nelson J. Davis
Directed By
Nelson J. Davis
Cast
Nelson J. Davis, Styves Exantus, Shuler King, Tre Williamson, Autumn Read, Rachel Reed, Jalisa McFat
About the Crew
Nelson J. Davis is an actor and director known for Secure the Bag (2019), Unwitting Deceit (2020), Ultimatums (2020), and Forbidden Fruit (2021).
Shuler King is an actor and comedian with over half a million Instagram followers. He's known for Wild 'N Out (2019-2020) and Sister Circle Live (2020).
Tre Williamson is an actor known for The Michael Jackson Trial (2005), The Scam (2012), and The Morning After (2018).