Rent or Buy Now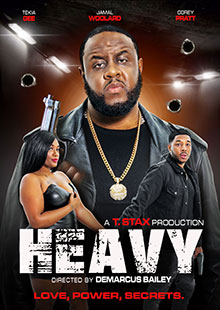 Heavy
Own It December 07, 2021
Genre: Drama, Thriller
Runtime: 106 Minutes
UPC: MAV-5752, 824355575224
Storyline
When being young and hood rich is no longer a priority Renz turns his focus to something physically and mentally finer. But when walls and barriers begin to break, things begin to get HEAVY and he realizes he has to choose between love and loyalty.
Produced By
DeMarcus Bailey & Tiara Stax Jones
Directed By
DeMarcus Bailey
Cast
Jamal Woolard, Nadirah Shakir, Corey Espie, Montreal Diggs, Tekia Gee
About the Crew
DeMarcus Bailey is a director, writer, and producer known for Love & Drugs (2018), Love & Drugs 2 (2020), and Christmas on my Block (2021).
Tiara Stax Jones is an actress and writer known for Holding the Devil in (2020), Christmas on my Block (2021), and Heavy (2021).
Jamal Woolard is an actor known for Notorious (2009), Barbershop: The Next Cut (2016), All Eyez on Me (2017), and Stolen Lilies (2020).
Aaliyah Muhammad is an actress known for Carter High (2015), First Impression, and Freeform's hit series "Cruel Summer" (2021).