Rent or Buy Now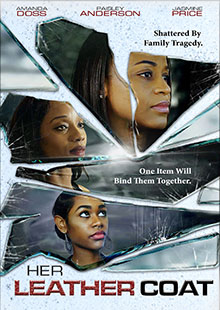 Her Leather Coat
Own It August 24, 2021
Genre: Drama
Runtime: 73 Minutes
UPC: 824355574425, MAV-5744
Storyline
All family secrets have a price, and a due date, for this family of estranged sisters, the date is now.
Produced By
Pharoah Powell, Amanda Doss
Directed By
Monique Dismuke
Cast
Amanda Doss, Jasmine Price, Paisley Anderson
About the Crew
Pharoah Powell is an actor and producer, known for Watch Phoenix Rise (2015), Basketball 3:16 (2016), Hunting Season (2016) and All the Love (2020).
Amanda Doss is an actress known for The Shop (2015), Family First the Marshawn Lynch Story (2015), and 65th (2017).
Marc Thomas is an actor known for Cadence Ambulance (2016), The Leather Coat (2021), and Fear and Love (2022).